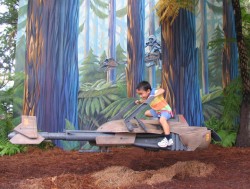 We only had a few days left this summer and the opportunity to visit Inge was short, so we decided to drive to Florida after Steph finished her watch on Monday morning. We took off at 8:30 a.m. and got into Florida around 10:30 p.m. that night. The kids got to enjoy a couple of movies on the way down and a nice leisurely meal at Ruby Tuesday's. This is the first time we drove during the day and the kids were great. We should do it more often when we get a chance.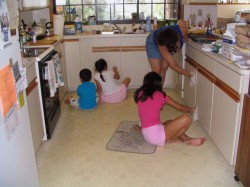 Inge looked good, she has lost thirty pounds. The kids had a great time entertaining her. They also helped papa Willie around the house.
We did spend dinner swimming at Uncle Marks and Aunt Jennifer. The next day we went to MGM Disney where Nicole got to ride her first real roller coaster, the "Rock-n-Roller" Coaster featuring Aerosmith as she in now tall enough to ride the big coasters. Timothy rode the Star Wars ride Twice!